QUICK LINKS

Programs
The Cancer Resource Centre brings together in one place the resources and support to help put patients with cancer on the path to healing. We believe in the importance of healing the whole person - the mind, body and spirit. Our support groups, mind-body-spirit classes and educational offerings help patients deal with the complexities of cancer treatment, and rise above the stresses and difficulties of this journey.
Thanks to the generous support of our community, all of these services are provided at no charge to patients with cancer and their loved ones. In addition to classes and special programs, the Cancer Resource Centre maintains a lending library and its staff will assist with internet searches.
Mind/Body/Spirit Offerings
Registration is required, please call 219-836-3349. Please provide a prescription from your physician before attending ALL Mind/Body/Spirit Programs.
Chair Massage
Meets the 1st Wednesday and 3rd Wednesday of the month from 10-11:30 am. Enjoy the benefits of a 20 minute chair massage! Massage will physically relax the body, reduce mental stress, anxiety and may promote better sleep. Massages are administered by Certified Massage Therapists. A prescription from your physician is required prior to attending.
Chair Yoga
Designed for those who have difficulty support in a regular yoga environment. You may sit or use a chair for balance. Kriya is a holistic, whole body experience; it works to calm the nervous system; strengthens and quiets the mind and body. Every Thursday 2:00-3:00 pm
Chi Gong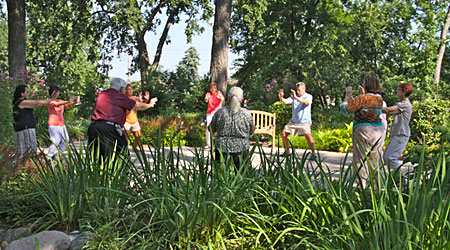 Classes meet weekly on Thursdays from 9:30 - 10:30 am. Learn this ancient healing art of breath, movement, non-movement and meditation. Experience this therapeutic form of Eastern medicine and feel revitalized. You will be led through a one hour session of warm-ups, positions and focused movements.
Crystal Bowl Sound Healing
The pure sounds of the crystal bowls will wash away stress and still the mind. Wear loose clothing; bring a blanket and pillow for comfort. Held the 2nd Monday of every month.
Empowerment Drumming
Drumming is healing, rejuvenating and invigorates the immune system. It helps individuals take an active and meaningful role in the healing process, helping to put back into one's life what is missing to become whole again. Empowerment Drumming meets on the third Monday of the month from 5:30 p.m. - 6:30 p.m. No previous music experience necessary.
Expressive Art Therapy
Art Therapy has been recognized as an effective mind body intervention. It helps to provide an outlet for inner thoughts and feelings that can not be put into words, giving individuals a sense of control over their surroundings. This program is facilitated by a Board Certified Art Therapist. Expressive Art consists of six sessions and meets on the 1st Saturday of the month from 9:00 a.m. - Noon.
Guided Imagery
Guided Imagery helped individuals direct their thoughts and imagination towards a relaxed, focused state. It can enhance health, self esteem, performance, decrease stress, anxiety and increase overall happiness. Class offered quarterly, call or check calendar for dates and times.
Healing Touch
Meets the 1st Wednesday of the month; 1-2:30 pm. Healing Touch uses hands-on and energy-based techniques to balance and align the human energy field. Body, mind, emotion and spirit are touched through this therapeutic process. A prescription from your physician is required prior to attending.
Healthy Cooking
The Healthy Cooking program will be facilitated by visiting chefs and students from the area cooking schools.  The program will be held once every quarter in our own state-of-the-art demonstration kitchen.  Demonstrations will address healthy eating habits, nutritional value and the actual preparation of food.  It is an informative as well as fun afternoon for all to experience.
Reiki
Meets the 2nd Wednesday 9:30 am-11:30 am. Reiki is a technique that aids the body in releasing stress and tension by creating deep relaxation and inner balance. Reiki restores energy, balance and vitality. A prescription from your physician is required prior to attending.
Reiki/Reflexology
Meets the 2nd Monday of the month from 1-3 pm and the last Wednesday of the month 3-5 pm. Reiki complements all other healing arts; Reflexology, the practice of treating the whole body by touching the feet and sometimes the palms, is an especially valuable example of a therapy that complements Reiki successfully. A prescription from your physician is required prior to attending.
Tai Chi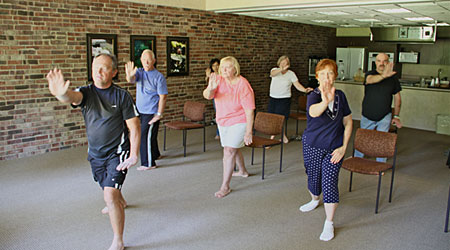 Classes will be held every Friday 9:30-10:30 am. Tai Chi has been practiced for centuries by men and women of all ages and fitness levels. The art of Tai Chi is considered "Meditation in Motion". Classes emphasize balance, posture, breathing techniques, concentration and complete relaxation.
Yoga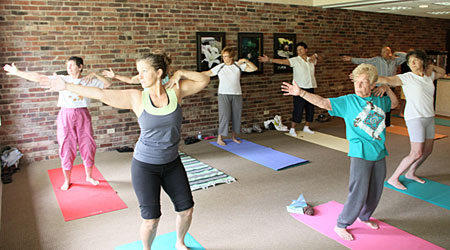 Classes meet weekly; Mondays 9:30-10:30 am or Wednesdays 6-7 pm. Breathe and stretch your body and mind. Yoga classes are therapeutic as well as restorative. Each class will conclude with a relaxation segment to enhance overall well-being and peace.
Support Groups
Please contact the Cancer Resource Centre to schedule an orientation session prior to joining a support group.
Blood Cancers Support Group
This group is designed for adult family/friends and those with a diagnosis of leukemia, Hodgkin's lymphoma, non-Hodgkin's lymphoma or multiple myeloma. Offered in conjunction with the Leukemia & Lymphoma Society. Meets the 3rd Tuesday every month from 6-7:00 pm.
Breast Cancer Support Group
For all women with a breast cancer diagnosis.  Newly diagnosed to long term survivors are welcome to share their concerns, stories and experiences.  Group meets the 1st and 3rd Wednesday of each month from 6:00-7:30 pm.
Caregiving Support Group
This is a supportive program series for spouses/family caretakers to explore and develop strategies to help cope when you have a loved one diagnosed with cancer. Group meets the 1st Tuesday of the month from 6-7:30 pm.
Healing Hearts
Provides, an opportunity for those who have lost a loved one to share experiences, struggles, feelings and triumphs. Healing Hearts support group offers helpful information and support in a comfortable atmosphere and facilitated by a bereavement facilitator from Hospice of Calumet Area.
Lung Cancer Support Group - NEW
For all with a lung cancer diagnosis are invited to come together to share their experiences and concerns. Group meets the 2nd Wednesday of every month from 10-11:30 am.
Mind Over Mood Support Group
Explore factors that impact mood and effect functioning; develop skills to help address and counter the negative elements when facing cancer. Group meets the 1st Wednesday of each month from 10-11:30am.
Wellness Support Group
Provides an opportunity to share feelings, receive support, and learn ways to cope with the experience of having cancer. Professionally facilitated. Tuesdays 10-11:30 am or Tuesdays 6-7:30 pm.